Story
Zim youth join 'Keep the promise' digital campaign on SDGs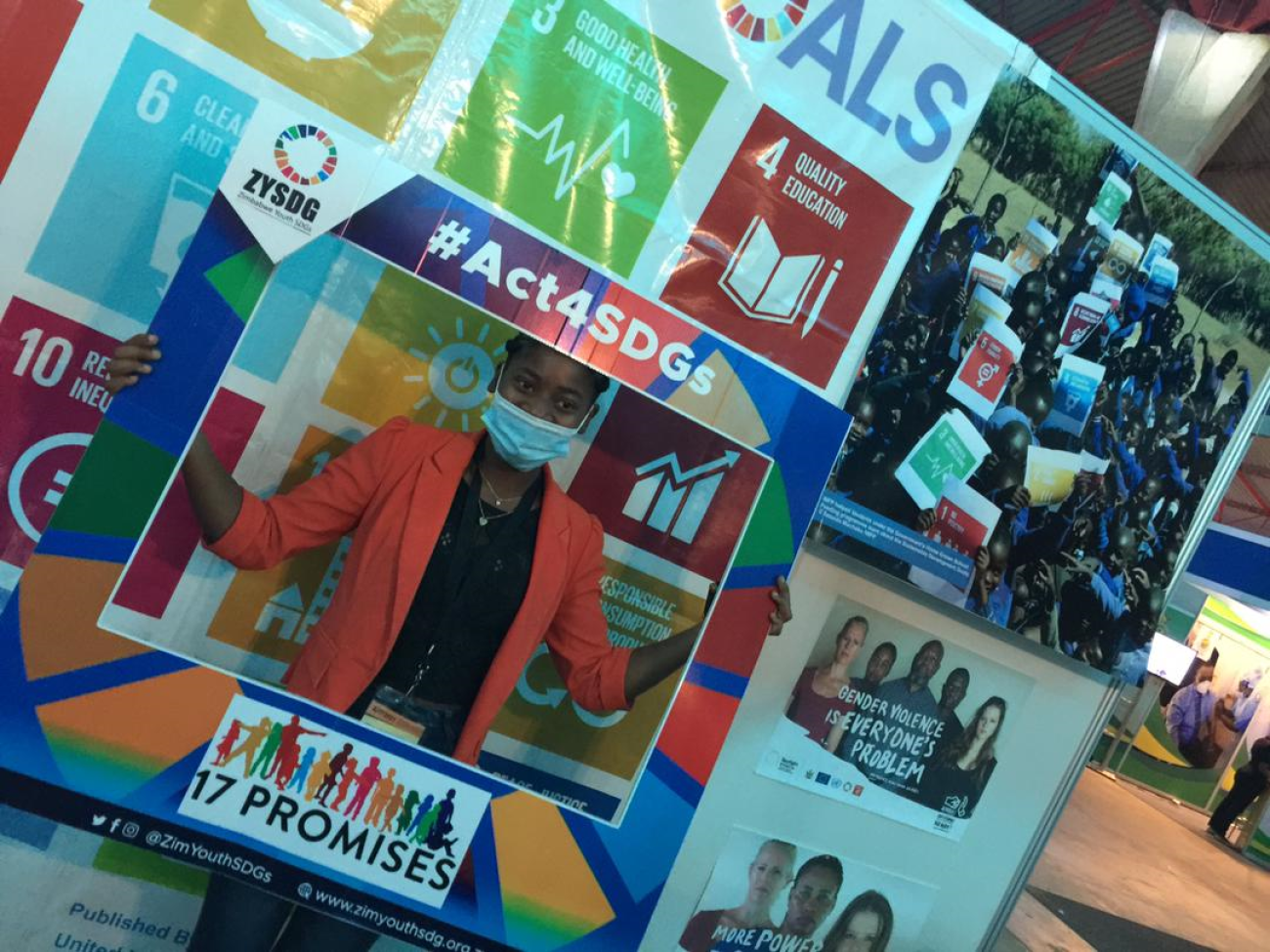 Zimbabwe Youth SDG Trust has 136 community chapters and special interest groups working on different SDGs
24 September 2021, Bulawayo - Youths in Zimbabwe this year joined the United Nations Zimbabwe at their exhibition stand at Zimbabwe International Trade Fair (ZITF) held in Bulawayo and took a lead on the 17 Promises campaign. The Campaign, which feeds into the global campaign for Sustainable Goals (SDGs), urges people to make a commitment to work towards fulfilling one or more of the 17 SDGs.
Zimbabwe Youth SDG Trust (ZYSDG) mounted a selfie booth in which people made their commitments during the four-day fair which ran from 21-24 September.
"Hi my name is Abigail Siziba. I commit to work with women from Bulawayo to ensure we achieve SDG number 6, Clean water and Sanitation for all," said Siziba, a student at a College in Zimbabwe.
Chido Sivare, a communicator with Zimbabwe's Ministry of Information and Publicity pledged to reduce inequalities. "As a communicator I believe in communication for development and development for communication which will actually help to reduce inequality, to have everyone involved in development."
The 17 Promises selfie booth attracted a cross section of people. Honourable Joshua Sacco, Member of Parliament for the Cyclone Idai hit region of Chimanimani said: "In light of Cyclone Idai and global warming, the need to conserve the environment and reduce our carbon emission, I promise to be proactive to actively lobby for our environment and reduce our carbon footprint."
"We are involved in financial inclusion at national level with our co regulators and we have a particular interest in SDG 8, Decent work and economic growth. We make a pledge to work towards that all the way through to 2030," said Farai Mpofu who is in charge of investor education at Securities and Exchange Commission of Zimbabwe. 
Jasper Mangwana, Executive Director ZYSDG said any developmental agenda that excludes the youth is not sustainable. He said it is important for our young people to partner with institutions that are driving development in Zimbabwe and the world.
 "Young people have the energy and the innovation to contribute meaningfully to development and I therefore implore the government, private sector and civil society to embrace initiatives from young people and make them feel part of the development agenda," he said, adding "we want to appreciate the partnership we have with the United Nations in Zimbabwe as a lot of young people are coming forward and we must help them realise their full potential".
ZYSDG has 136 community chapters and special interest groups working on different SDGs in the country and are looking to taking the chapters into the country's provinces because 'the time to act for SDGs is now," he said.
The 193-UN member States made a commitment in 2015 to fulfil some or all of the 17 SDGs. The SDGs which include a commitment to end hunger, poverty, provide good health and sanitation, quality education, gender equality, and other areas to create a better world for all.
UN entities involved in this initiative
RCO
United Nations Resident Coordinator Office
UNIC
United Nations Information Centre